Current Events
Sign Up for Future Events
Past Events
Charleston Cocktail Master Class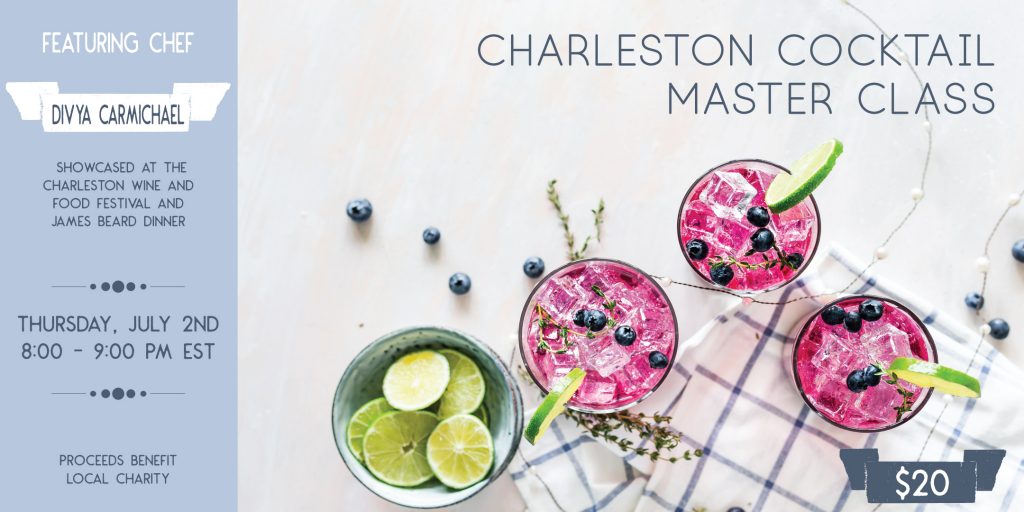 Join Pop-Ups For A Purpose for a Cocktail Making Master Class featuring chef, Divya B. Carmichael, from Dallas Texas, former owner of SugarDADy Desserts. Divya was a featured Pastry Chef at the James Beard House Dinner and was showcased at the Charleston Wine and Food Festival.
During class, participants will be instructed on how to make 3 distinctive Independence Day-themed cocktails – Red vodka sparkler, White gin fizz, and Blue rum rush. The class will be interactive and participants will be able to engage with Chef Divya and ask questions while creating their cocktails.
Pop-Ups Book Club
Pop-Ups For A Purpose and Buxton Books have partnered together to offer readers a national virtual book club during the COVID-19 pandemic. Readers can escape the summer heat to immerse themselves in captivating and memorable stories from New York Times bestsellers as well as the best up-and-coming authors.
July's book club selection will be – "The Southern Book Club's Guide To Slaying Vampires" by Grady Hendrix. The book is described as "Steel Magnolias" and "Fried Green Tomatoes" meets "Dracula". Grady's thriller takes you back to the 1990's for a ladies book club and on a supernatural adventure.  http://www.gradyhendrix.com/
Rooftop Hop of King Street
Our signature Rooftop Hop of Upper King is a perfect way to start your weekend! Come join us for the best Friday night drink and food specials in town all while supporting Pop-Ups for a Purpose. Group discounts are available for 3 or more ticket purchases.